The vibrant Harrison Centre digital suite hosts 17 individual stations, equipped with PCs and keyboards, esports furniture, gaming and esports management software and more.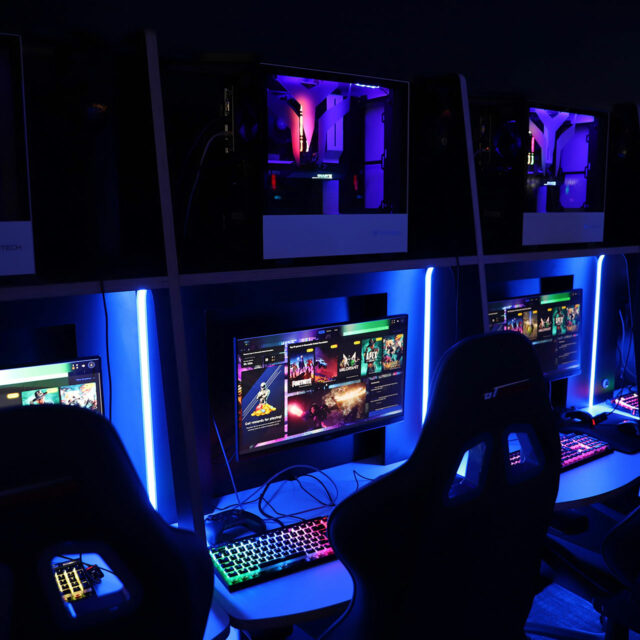 The Harrison Centre for Social Mobility in Newcastle Upon Tyne is a partnership with the Newcastle United Foundation (NUF).
Based in NUF's purpose-built sports and education centre, the Harrison Centre supports digital and STEM (science, technology, engineering and mathematics) education.
From Newcastle United Foundation's new community hub – NUCASTLE – cohorts of students are building their communication, teamwork and leadership skills through the first and only esports study programme in the North East linked to a Premier League club in NUCASTLE'S esports arena.
Newcastle United footballer Joelinton has already been impressed by the esports arena during a recent visit to the centre, as well as then Secretary of State for Education Nadhim Zahawi MP who described the STEM and eSTEM work as "levelling up opportunity" for the region's young people. Harrison Foundation trustee, Daniel Harrison, said: "The Harrison Foundation's mission is to give a hand up to people across our region and help them into employment. Having visited NUCASTLE and the esports room many times now, it's clear to me that this partnership has every chance of being a game-changer for our young people. I was particularly keen to establish one of our Harrison Centres for Social Mobility at NUCASTLE and to support the esports and STEM facilities because they bring together competition, learning and teamwork into an environment that is engaging and fun. It's a fantastic facility that everyone involved can be proud of. I'm excited to see how it develops over the coming years."
Andy Foster, Programme Manager at Newcastle United Foundation, said: "NU Futures is an incredibly ambitious programme which we know will support more than 12,000 young people over the next decade to ensure everyone has the opportunity to explore careers in STEM sectors.
"The digital economy is creating rapid growth across the North of Tyne area and students at NUCASTLE are able to develop transferable skills around communication, leadership, strategic thinking and financial planning through esports and STEM learning.
"We are very proud of our shared commitment with the Harrison Foundation to provide the most up-to-date and exciting opportunities to learn and work towards skilled careers available here in the North East."
Get in touch with us today for more information about the Harrison Centre for Social Mobility.
Get in touch