Antigua
Antigua and Barbuda Institute of Continuing Education
The Harrison Centre for Social Mobility in Antigua and Barbuda is the first overseas Harrison Centre and is due to open in early 2023.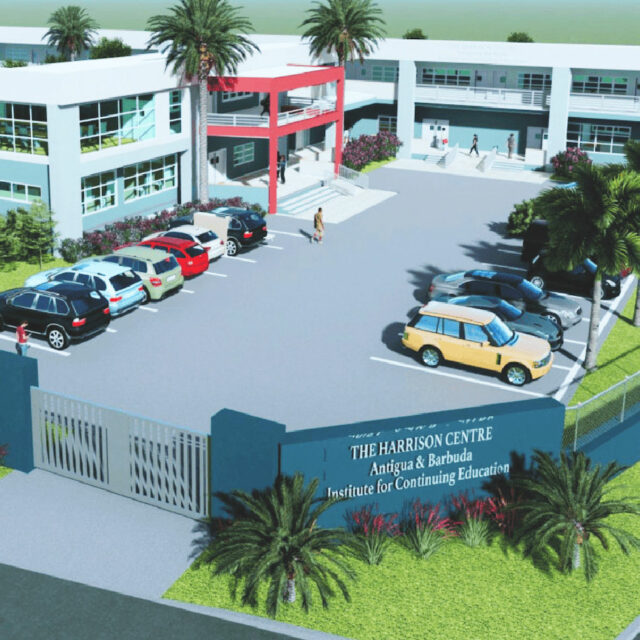 It will see the full redevelopment of the existing Antigua and Barbuda Institute of Continuing Education (ABICE) as part of a multi-million dollar grant from the Harrison Foundation to establish the Harrison Centre Antigua and Barbuda Institute for Continuing Education.
The ABICE was formed out of the amalgamation of three social programmes in 2007. It is focused on providing Technical and Vocational Education Programmes that give students a second chance as well as lifelong learning opportunities. The financial injection from the Harrison Centre will result in a model facility for technical and vocational training that will nurture the development of critical skills in Antigua and Barbuda at world class standards. Antiguan Prime Minister Gaston Browne expressed appreciation to Sir David Harrison for his significant and timely support to the educational development of Antigua and Barbuda.
The Prime Minister stated: "The education landscape in Antigua and Barbuda is experiencing a period of significant and strategic growth. The development of The University of the West Indies Five Islands Campus, the work to complete the Sir Novelle Richards Secondary and now this investment in ABICE, point to a country which is rapidly and dynamically situating itself as a Caribbean hub for academic, technical and vocational training. The Government is committed to taking those bold and visionary steps needed to build our human capacity and in so doing expand our economic prospects."
Sir David Harrison expressed his delight in seeing the expansion of the Harrison Centre for Social Mobility into Antigua and Barbuda, a country he regards as his second home. He said: "I am delighted with this partnership between my foundation and the Government of Antigua and Barbuda that will lead to the first overseas Harrison Centre for Social Mobility.
"Through our work in the UK, we are lifting young people's sights and aspirations as well as connecting them up with employment opportunities because that is how to improve social mobility. It's a model that works and I'm excited to bring it to Antigua and Barbuda, a beautiful country with great people and through this partnership, a leader in social mobility."
Get in touch with us today for more information about the Harrison Centre for Social Mobility.
Get in touch