New Harrison Centre for Social Mobility opens in Darlington
06 December 2022
The new centre will provide educational and employability training to local people. The new project is a joint partnership between the Harrison Foundation and local Darlington charity, First Stop with additional funding from global growth equity firm, FTV Capital.
As well as providing support to young people and connecting them up with the world of work, there will also be assistance provided through the Harrison Centre for adults who need retraining and upskilling.
This will be done in a face-to-face setting at First Stop's Advice and Wellbeing Centre in Darlington and will also include an online portal, meaning members of the public can access online learning no matter where they live.
Harrison Foundation trustee and Chief Executive of financial technology firm True Potential, Daniel Harrison, said: "I'm delighted to partner with First Stop and open the Harrison Centre for Social Mobility in Darlington.
"It will provide the skills and routes into employment that local people need. Quite often it is about giving people the confidence to find and keep a job and I know that's what First Stop is very good at as well as connecting them up with local employers who have job vacancies".
"I'm particularly looking forward to introducing the Harrison Centre and First Stop in Darlington into the wider Harrison Centre for Social Mobility family, so that they can all begin to share their own knowledge and resources to everyone's benefit.
"Thanks must go to FTV Capital for their generous financial contribution and also to Darlington's local MP, Peter Gibson, who introduced us to First stop and without his help this project would not have begun."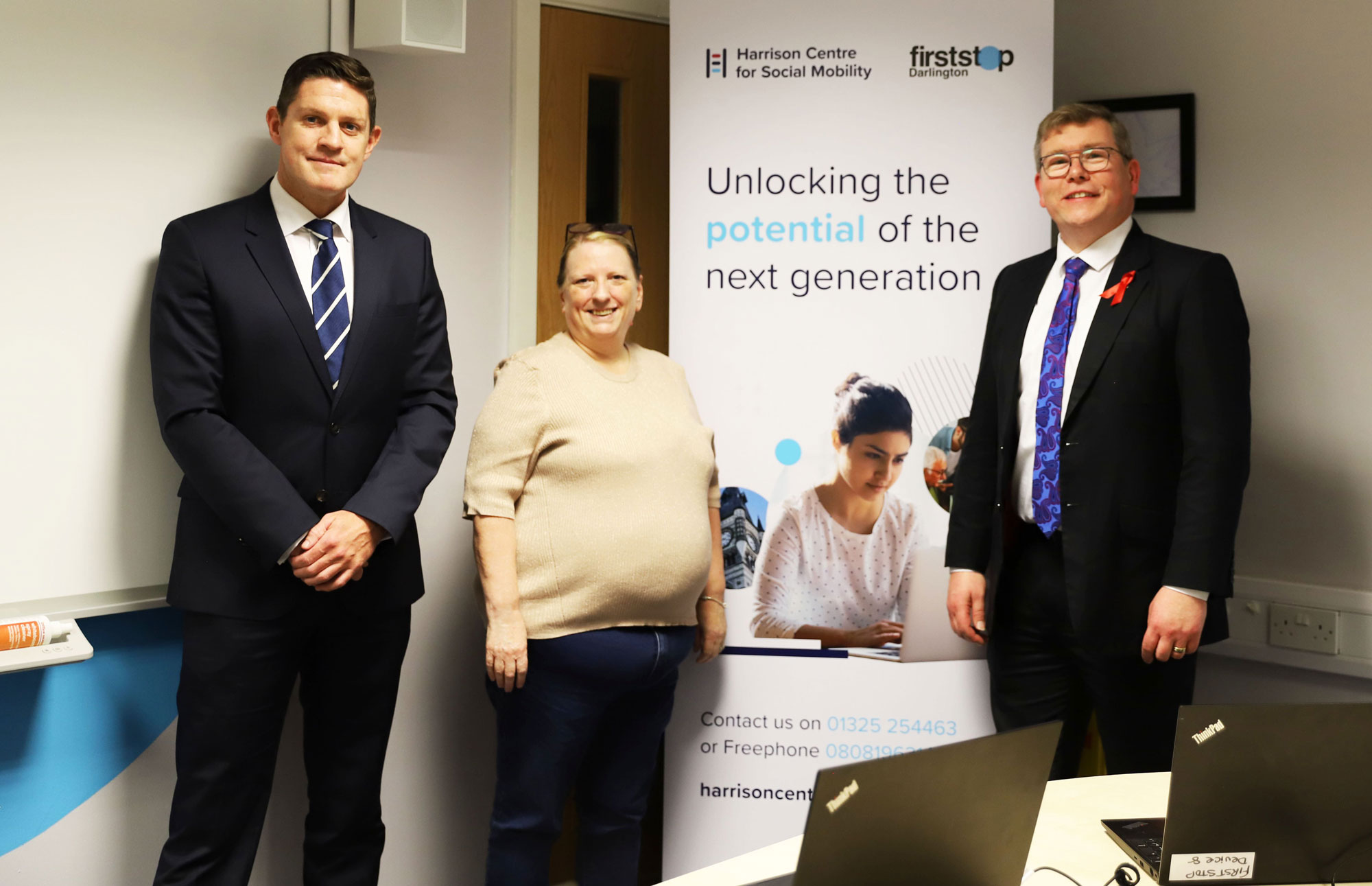 Darlington MP Peter Gibson said: "I am delighted with the launch of this initiative, bringing together First Stop and the Harrison Foundation who have supported a number of initiatives in Darlington.
"Tackling social mobility is key to levelling up our community here in Darlington and I look forward to seeing the positive outcomes for the community I represent."
First Stop's Chief Executive, Tracy Freeman, commented "This funding will make a huge difference to those who get left behind, enabling them to move forward positively and gain traction in the working world.
"The digital world seems to have been here for a long time for so many of us but we must remember that due to financial constraints there are still millions of people with no access, which puts them on the outside edge of their potential".
Kyle Griswold, partner at FTV Capital added: "At FTV, we are passionate about engaging philanthropically with underserved and under-resourced communities. As a long time investment partner to True Potential, we're pleased to add the Harrison Foundation, and by extension First Stop, to the focused set of initiatives where we are actively contributing to make a positive difference."
Get in touch with us today for more information about the Harrison Centre for Social Mobility.
Get in touch